News and Updates

Second Edition available November 4, 2015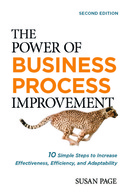 The second edition of the industry standard Includes reader feedback such as a chapter on BPM, a new international case study, and knowledge checks.

Published by the American Management Association.

ISBN: 9780814436615
---

Interview with Bill Fox

5 Minutes to Process Success
Read Susan's interview with Bill Fox where she discusses his key question: "
What is your best process improvement strategy or tactic that has worked really well for you or your clients?
"
---
University of Phoenix

Alumni Magazine

See The Power of Business Process Improvement highlighted on page 4 of this month's University of Phoenix alumni magazine.
---
International Human Resources Information Management

IHRIM
Susan enjoyed presenting the 10 steps to members of the IHRIM (International Association for Human Resource Information Management) organization. Several participants shared that they found the process "simple and easy to use." Visit the IHRIM site.
---
The Work Style Magazine

---
World Vision

Visit World Vision's Site


Susan presented an overview of the 10 steps to the People & Culture staff. Some of the team has responsibility for continuous improvement so she enjoyed spending some time with them. They had a great discussion about a company's culture and the authority to do this type of work.
"Your presentation and the book - it puts the concepts into concrete steps and makes it very approachable (rather than overwhelming, which was what BPI felt like before)."
"...done some process work before and I found your descriptions helpful."
"It was a very good event....and we plan to use the book to review one of our critical processes."
Session Participants
---
The Chief Executive's Club
Visit Rhode Island's Chief Executive Club


Susan enjoyed meeting with a group of CEOs to discuss business process improvement. In addition to providing an overview of the 10 steps, she talked about engaging employees in the work, alleviating fear, and working with outside suppliers.
"...Your presentation resulted in exceptionally good feedback, ranking the topic, the speaker's presentation, roundtable discussion, and overall value of the meeting as one of the best."
Robert Fiske CEO & Executive Director The Chief Executives Club
---
American Management Association's Press Release
---